Jamie Perry – BSc (Hons) GSR | Sports Rehabilitation Therapist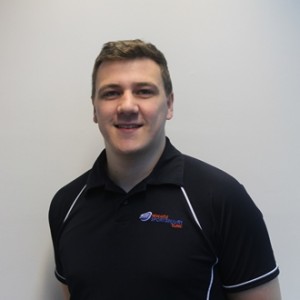 Jamie has previous experience in private health clinics as well as with professional football and rugby teams and with elite and non-competing runners. These specialist areas have allowed Jamie to develop his knowledge of musculoskeletal (MSK) injuries and their treatment in different environments. This is further aided by Jamie's ability to work well within a multidisciplinary team.
Within Newcastle Sports Injury Clinic, Jamie has enjoyed transferring the skills he developed on his rehabilitation degree to benefit a wide variety of patients from sporting elite to the non-sporting and working with them as they progress through their injury rehabilitation. Jamie is an experienced massage therapist and utilises a holistic approach to his treatment methods.
In addition, Jamie delivers a weekly Lower Limb Circuit class and a regular running class -Track, Trail & Tarmac which includes regular 6-week challenges. Jamie's classes are developed with the senior podiatrist at the clinic and use a patient centred approach, a personalised program is created for the individual patient to offer the greatest benefits. The Lower Limb Circuits aim to rehabilitate and/or prevent injuries and maintain joint health and overall conditioning for the patients. The running class aims to devise a program which supports runners developing strength and conditioning and improving their running form, which in turn helps to prevent running related injuries.
Further to this, Jamie also teaches several Pilates classes at the clinic. These classes aim to develop patients core stability with the aim to alleviate back pains and improve general health and wellbeing.
Jamie provides pitch-side support and emergency first aid to Northumberland FA football and local university rugby teams on a regular basis and works with the Northumberland FA Youth team focusing on their strength and conditioning by providing screening sessions and personalised exercise programs.
Jamie is available for rehabilitation therapy and massage therapy appointments at our Newcastle city centre clinic.