Josie Barlow | Physiotherapist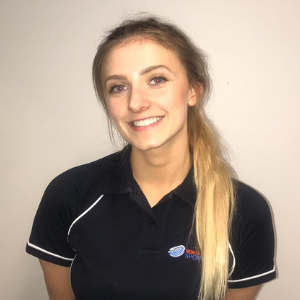 Josie is a Physiotherapist who has joined us here at Newcastle Sports Injury Clinic having graduated in 2015 from Teesside University. She joins us from Sunderland Royal Hospital where she spent her time as a Band 5 Physio before moving to Band 6 and specialising in musculoskeletal physiotherapy. Working with several patients suffering from both chronic and sports related injuries inspired her to pursue a career in this specific area.
When it comes to appointments, Josie offers a range of different high-quality methods to ensure you receive the best treatment possibly. Providing various tailored exercises combined with a hands-on approach, Josie prides herself on improving patients' quality of life through her assessments. As well as this, Josie also tries to implement factors of Pilates into her treatments, believing that core strength is vital to injury prevention, recovery and living a pain-free life. She has already achieved her Mat Work Level 1 and is currently working towards Level 2. Josie frequently challenges herself and is always eager to develop her skills, embarking on several courses in order to incorporate this new research into her treatment.
Besides working, Josie has a passion for running and is a keen runner herself, with the ambition of completing a marathon.
Josie is available for Physiotherapy treatments at our Newcastle city centre clinic. To make an appointment Book Online or call us on 0191 233 0500.