Nicola Murphy | Physiotherapist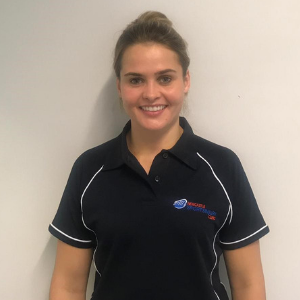 Nicola is a Physiotherapist who has joined us here at Newcastle Sports Injury Clinic, having previously worked at the City Hospital Sunderland. She spent her time there in both the Sunderland Integrated Musculoskeletal service as well as the Respiratory service. Nicola graduated from Queen Margaret's University in Edinburgh in 2011 where she completed her degree in physiotherapy as well as obtaining an ITEC qualification in Sports Massage.
When it comes to appointments, Nicola offers both a holistic and comprehensive assessment leading to a diagnosis, where after thorough and clear explanation, a follow up personal treatment plan will be established – defined by the patients' goals. With a keen interest in both strength and conditioning as well as Pilates you can expect to see elements of these two practices frequently implemented into her excellent treatments. An eager learner with a strive to challenge herself, Nicola has already achieved her Mat-Work levels 1-3 and recently passed the APPI Pilates exam – her specific areas of interest also include chronic pain and shoulder rehabilitation.
Outside of work, Nicola enjoys leading an active lifestyle where she regular partakes in CrossFit, training 6-days a week as well as enjoying both hiking and triathlons. If she's not pushing herself in the gym, then she's pushing herself at home, where she regularly delves into self-development reading and occasionally tackles the art of baking and cooking healthy meals.
Nicola is available for Physiotherapy treatments at our Newcastle city centre clinic. To make an appointment Book Online or call us on 0191 233 0500.