Pamela Hindmoor BSc (Hons) Podiatry | Senior Podiatry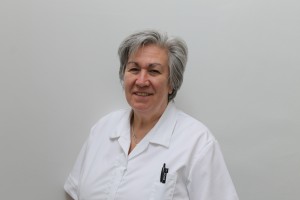 Senior Podiatrist, Pam, is a clinical specialist in Podiatry. She holds a Master's degree in Clinical Education as well as a degree in Podiatry. Pam has worked in both NHS and private healthcare settings and is highly skilled in the assessment, diagnosis and treatment of an extensive range of foot related pathologies. When assessing a patient, whether they be an elite athlete, suffering with foot pain, an occupational injury or someone with concerns over the health of their feet, Pam reviews the cause as well as the symptoms to develop a personalised treatment plan which suits the needs and lifestyle of the patient.
Pam specialises in the following areas:
• Biomechanics and Gait Analysis
• Running clinics
• Muscle imbalance
• Spinal positioning
• Aging feet
• Sports related foot injuries
• Diabetic footcare
• Paediatric footcare
Using her interests and her vast clinical and teaching experience in biomechanics and gait analysis, Pam has extended the services offered at Newcastle Sports Injury Clinic far beyond a simple Podiatry and Chiropody treatment service.
Our unprecedented running clinic is led by Pam. The running clinic uses a team approach, working with the physiotherapists and rehabilitation therapists, to assess patients running biomechanics as well as their strength, stamina, and flexibility, which leads to a personal targeted rehabilitation programme for the patient.
In addition, Pam works closely with a team of orthotists to provide a range of orthotic and footwear solutions for patients that support their rehabilitation and return to activities or sports that they are passionate about.
Pam looks at more than just the feet of patients, she has instigated and led the development of several classes and workshops at the clinic which complement the treatments available at the clinic. These classes include lower limb circuits and running classes, which aim to provide a program to support the strength and condition of the patient to improve running form. All classes use a patient centred approach which supports the rehabilitation of the patient and facilitates a return to activity and prevention of future injury.
Pam is available for appointments within our Newcastle City Centre clinic, though can travel to our Jesmond or Alnwick clinics upon request.