Wendy Smithson BSc (Hons) MCSP | Physiotherapist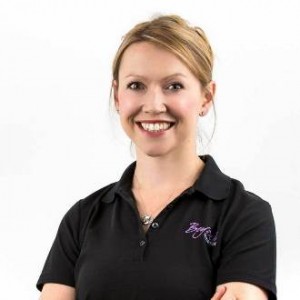 Wendy graduated in 2003 with a BSc Hons in Physiotherapy from The Robert Gordon University in Aberdeen. She spent the following 7 years at the Royal Infirmary of Edinburgh. This time provided Wendy with extensive experience in assessing, treating and managing a wide variety of conditions.
Wendy chose to specialise within Musculoskeletal and Sports Physiotherapy when she moved to Dubai in 2010. She provided assessment and tailored treatment programmes for patients ranging from the sedentary individual to the elite athlete. Whilst in Dubai, Wendy developed a passion for golf and became a certified member of the Titleist Performance Institute. She is able to identify and help overcome physical restrictions that may be limiting a golfer from reaching their potential. Wendy put these skills to good use whilst working at the prestigious Emirates Golf Club.
Wendy has a particular interest in back injuries, having a history herself. It has allowed her to fully understand the impact back problems can have on day to day life, understand the process involved in resolving them, and very importantly maintaining them. Wendy's passion is assisting patients who have been suffering from on/off neck or back pain for many years. Wendy believes in the importance of addressing all the biomechanical factors affecting the problem including lifestyle and occupational factors. A strong focus is placed on educating and empowering the patient with the knowledge and skills to manage it independently and reduce the risk of recurrence.
Wendy's other interests are post-operative rehabilitation, shoulder dysfunctions and Women's Health.
Wendy has attended many courses to update her knowledge and clinical skills. These have included Kinesio Taping, Dry Needling, Clinical Pilates and Management of Pregnancy related Musculoskeletal Conditions. She applies many of these skills to her treatment programmes.
When not at work, Wendy is a busy Mum to two young very active boys. They keep her fit and on her toes!
Wendy is available for appointments at our Jesmond and Newcastle city centre clinics.