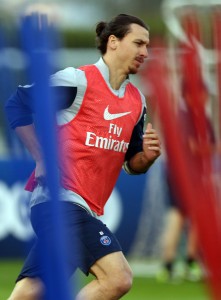 It may be as traditional in England as turkey and stuffing, but the annual festive fixture list in the English football leagues has come under scrutiny once again because of the strains it places on players' bodies.
This year, the tradition of playing three games in a short space of time – including the obligatory Boxing Day fixture – has attracted attention because Manchester United striker Zlatan Ibrahimovic has criticised the schedule.
The issue is compounded because the English leagues, unlike many of the European counterparts, do not have a winter break – usually a week of rest and recuperation at the start of January.
It's an old story and a familiar talking point – fans love it, players and managers don't – but this year feels different because of Ibrahimovic's input. Mainly because of his stature and experience within the game.
Zlatan's incredible 2016
He is 35 – certainly at the older end of the scale for footballers – but remains in peak physical condition. In the 2016 calendar year, he has scored 50 goals – only one player in the world has scored more: Lionel Messi, with 51.
So Ibrahimovic certainly knows a thing or two about how to take care of himself and how to ensure he remains one of the best goalscorers in the world despite his advancing years.
Furthermore, this is his first season in England, after playing (and excelling) in Spain, France, and Italy, so he is ideally placed to comment.
"I think it's crazy"
Speaking when he was due to play his second game in less than 48 hours, Zlatan said: "I think it's crazy. Let's be intelligent and realistic for the health of everyone that is in the game, you need rest.
"There is no superman, there is no strength that can recover from a game so fast and I cannot do anything about it.
"If the coach wants me to play, I will play, I have to play, so I am available, I feel good.
"But let's be realistic, from a game you need to recover two or three days."
So there you have it. Of course, injury specialists (like us) and sports conditioning experts have highlighted this as an issue for years: the fact is, fatigue increases the risk of injuries and reduces the overall quality of the spectacle.
Unfortunately, fan power – and tradition – have always won in the end. The festive fixture list is unlikely ever to be changed, but its impact would be mitigated by a winter break. Perhaps if more players of the stature of Zlatan speak up about the issue, then we might see a break finally introduced.