As a team from Newcastle Sports Injury Clinic heads off to take part in Sport Newcastle's annual charity golf day at Matfen Hall (Friday, 18th September 2015), we examine nutrition: as important for golfers as it is for participants of any other sport.
Newcastle Sports Injury Clinic's senior physiotherapist and resident golf fan, Steven Veitch, looks at golf nutrition in detail.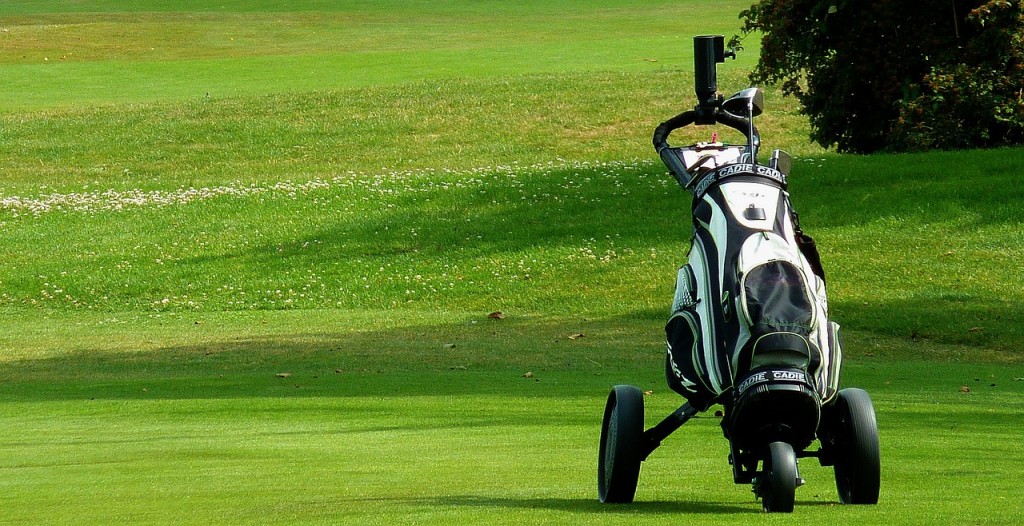 I am curious to know what food and fluid you put into your golf bag before you set out to play in a competition or practice round. Hopefully there is something more than just a bottle of water! Water may go some way to minimise dehydration – though in many situations it should not be your first choice of drink. In this blog, although hydration is equally important, I want to concentrate on what food you take out with you – hopefully you do take something, but are you making the best choices?
As a golfer you need to maintain your skills and concentration over several hours, and in some competitions, over more than one day. Once you start to run out of fuel and get tired, skills and concentration deteriorate and the quality of your play can plummet. Golf is not an enormously strenuous sport, compared to some sports. However moderate activity over a long period of time coupled with competition stress and perhaps unfriendly weather conditions can soon take their toll. The time spent out on the course will almost certainly mean that you will be missing a meal too. All this adds up to a possible fall in blood sugar level, increasing dehydration and a negative effect on performance due to the effect on brain function and skill.
Carbohydrate: the universal fuel source
Carbohydrate is the main fuel for muscle contraction. Unfortunately the body is only able to store a limited amount of carbohydrate so, apart from being well-hydrated, the most important things are:
to start with good stores of carbohydrate in your muscles
keep a steady blood glucose level and
keep up your carbohydrate levels during the round.
You should try to have a meal before hand, even if it is only a bowl of breakfast cereal with a banana and a glass of fruit juice or some toast and jam/marmalade instead of the cereal. On cold, miserable, windy days if you prefer something warming then porridge, baked beans on toast, poached or boiled eggs with toast or pancakes, sliced bananas and syrup are all ideal choices. This may sound like breakfast but these choices are suitable any time of the day and could be eaten if your tee off time is late. The only problem could be if your tournament is not close to home.
So what will be in your golf bag?
Aside from the nutritional value, what you eat out on the course must be something you enjoy rather than something you feel you "ought" to eat. You will be much more likely to keep nibbling away on your refuellers if they are things you like.
Nutrition is not the only thing you have to consider – chosen items must travel well too. Bananas or sandwiches squashed at the bottom of your bag are not going to be very tempting. Nor will crumbling biscuits, melted chocolate confectionery (only suitable items of course) or a leaky pot of rice pudding encourage you to refuel. So in no particular order:
Crisps and similar snacks.
 Crisps contain reasonable amounts of vitamin C but they do have a high fat content (not what you want). Low fat versions have around a third less fat than regular crisps but even these would not be on my list. Highly flavoured items should be avoided may repeat on you later which could be a bit unpleasant.
 Best choices in this group are Twiglets, pretzels or Japanese rice crackers. The high salt content may encourage you to drink more fluids, which on a hot or humid day would be a good thing, but I would actually rely on a sports drink for my sodium intake and go for a better refueller.
Chocolate does contain magnesium, iron and vitamin B2 (and milk chocolate contains calcium too). There is plenty of carbohydrate in the form of simple sugars but a lot of the energy (calories) comes from fat. Ordinary milk chocolate provides 45% of the energy as carbohydrate and 52% as fat. Chocolate bars that contain nuts, caramel or toffee tend to have even higher fat contents – plus the caramel and toffee stick to your teeth in a very annoying way!! Best choices are Crunchie bars and Turkish Delight (chocolate coated). These would be better than nothing, but there are lots of far more superior choices. Chocolate on a warm day melts too!
A large percentage of sweets are more or less pure carbohydrate. Jelly sweets will have a small amount of protein (from the gelatin) but this is not a significant advantage as gelatin is not a high nutritive value protein. Sucking boiled sweets or peppermints will keep up energy levels topped up a little and keep your mouth refreshed but constant sweet popping will play havoc with your teeth. Marathon runners like jelly babies and jelly beans.
Biscuits.
 Plain, dry savoury biscuits such as water biscuits, crackers or crispbreads are probably not going to be your number one choice, either for enjoyment or convenience – though they are high in carbs and low in fat. Cheesy biscuits like Cheddars and most chocolate biscuits will be high in fat. Non-chocolate biscuits will give you more carbohydrate and less fat (with the exception of creams and shortbreads). Avoid anything that has "butter" in the name.
 Best choices are ginger biscuits, rich tea, fig rolls and of course Jaffa cakes (very low fat, even with the thin layer of chocolate).
Cereal bars.
 Most cereal manufacturers make a wide selection so you should not get bored. Every time I go to the supermarket I find another new variety or make.
Cake bars.
 Things like Kellogg's Elevenses are a bit more substantial than a cereal bar but nutritionally just as good. But be careful, not all cakes are suitable i.e. not brownies, tiffin cake or the like. Other suitable cakes are jam-filled Swiss rolls, Battenburg (if you like marzipan) and some flapjacks if they are not too high in fat. If in doubt, check the label for the nutritional content.
"Bready" cakes.
 Scones, currant buns, scotch pancakes, iced fingers and buns and banana bread are all low in fat and high in carbohydrate. (Probably better to keep them in a plastic box to prevent any squashing).
Sandwiches, rolls and bagels. The bread provides plenty of carbohydrate, the spread a small amount of fat but the biggest variable will be the filling. Best choices for fillings include salad, tuna or salmon, cheese, chicken and lean ham but avoid any loaded with mayonnaise (too high in fat content).
Fresh and dried fruit.
 Dried fruit travels well. You may find larger fruits easier to munch on e.g. semi-dried apricots and dates as well as raisins, sultanas, cranberries etc. Of the fresh fruit, bananas are easily the best choice, providing most carbohydrate and very easy to eat. They can get squashed in the golf bag though. However several shops and mail order companies like Lakeland sell "Banana protectors"!
Happy refuelling!
Steve