Whilst foot complaints are very common they can easily be avoided, we recently highlighted some of the more common foot problems our Podiatrists here at the clinic diagnose and treat such as bunions or corns.  Here we explain some of the simple steps you can take to avoid foot complaints and prevent reoccurrence if you have already suffered from foot problems in the past.
Wear correct fitting footwear – If you are on your feet a lot it is important to wear a correctly fitting shoe. Choose footwear which has adequate cushioning in the midsole and a flared heel for stability. Make sure the toe-box is wide enough and deep enough for your feet. This is particularly important if you have any foot deformities such as a bunion or hammer toe.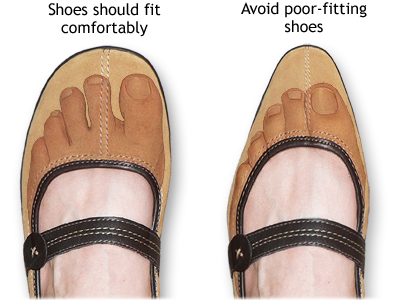 Follow the 1cm rule – when trying on footwear ensure you can wiggle your toes a little – leave 1cm of room from the top of your longest toe to the end of your shoe. Try on both shoes and walk around to make sure they don't pinch or rub. Trying shoes on in the afternoon helps as your feet can swell throughout the day. Steel Toe
Cap Boots – These shoes are made for your protection, however due to the stiffness of the shoe they can take a bit longer to wear in. If they are uncomfortable try to avoid wearing two pairs of socks or cushioning your feet with newspaper as this may cause blisters or infections. If you are experiencing discomfort, see your Podiatrist who will be able to supply you with effective protective devices. If the boots you have been issued with are not wide or deep enough for your feet and causing you problems, contact your line manager who will be able to order bespoke steel toe cap boots.
Always wear socks – to reduce the risk of fungal infection and blisters.
Tired Feet – If you are on your feet all day, they can become tired and fatigued. Wearing shoes with adequate cushioning or an accommodative insole can help reduce shock absorption. A podiatrist will be able to provide you with an insole and examine the foot for any pressure points. When possible sit with your feet up, especially if you have swelling in your ankles. If necessary try to lose some weight: if you are overweight this will increase the load your feet support, therefore any weight loss will be beneficial. Acupuncture can also help reduce pain and inflammation.
Exercise – Walking helps the muscles and ligaments in our feet to work more efficiently, and helps keep them supple and flexible. So even if you sit around a lot in your job or at home, try to get up and walk briskly for at least 30 minutes every day.
Seek expert advice if necessary – if you have ongoing foot pain that doesn't go away, have it examined by one of our Podiatrists. Should you require any further information or advice please contact us on 0191 2330500 where one of our therapists will be happy to help and where necessary book an appointment for treatment.