This week Felicity took on the Simply Health, Great North Run as part of her Kielder Marathon Training.
Marathon Blog: Week 4
This was the week of the Great North Run, in which 52,000 people ran alongside each other all chasing Mo Farah towards the finish: a torpedo of lycra if you will.  My goal, as always, was not to let the man dressed in an inflatable dinosaur suit beat me.  And after last week's melt down, I also had a more reasonable goal of getting to the end.  There were of course other obstacles to contend with: the portaloo queues, the difficulty of arranging where to meet along a street with no discernible land marks, and this year, the lack of lucozade on offer 🙁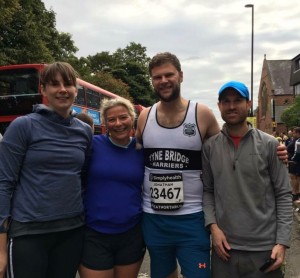 Pre Race Photo, All Smiles!
The Race
I wouldn't say I am a particularly competitive person, but there is something about being held in the starting pen and looking around at the other competitors which makes me think "It's on".  To be fair, sense descended pretty quickly after conceding that all the training we had put in was at 9-10 minute miles and we had done very few sessions of speed work.  I have also ran the Great North Run several times before and know the course well, which is why I doubted the possibility of a PB.  It is pretty flat, with a few long, gradual inclines, but it does have one particularly uncompromising hill at mile 11, which gets me every time.
The first few miles passed quickly due to the adrenalin, the views of the Tyne Bridge and the crowds.  The supporters along the course were incredible: there are bands, charity buses and even an Elvis impersonator.  Despite having been scarred by a previous attempt to 'High-Five' a group of teens who supported everyone else but decided to pull their hands away last minute, instead using them to point and laugh when I ran past, I did however greatly appreciate the ice pops held out by less-intimidating supporters.  I also made a point of using every available shower station, savouring the light rain of cool water on my skin.  We (myself and Adam) took our time, running 8-8:30 minute miles the whole way and were surprised at mile 7, then 8, then 9, that we were still feeling pretty fresh.
Miles 11 and 12 are worth a paragraph on their own.  Mile 11, due to it's unremitting gradient, prompted me to develop my own form of psycho-transcendence; attempting to separate mind and body so that I would no longer feel the pain.  The success of this new mind engineering model is up for debate, but I did make it to the top.  Mile 12 then starts after a hefty descent at the very end of mile 11.  It was in this steep decline that I felt my blister pop pretty dramatically.  That'll be fun later, I thought.
The last mile is along the sea front, which is heaven at the beginning when you see the sea, but then you will encounter the longest mile known to man.  And to make it worse, it is sign-posted every 400km.  However, in a not disappointing time of 1hr 49 minutes we made it.  The post-race pint, named 'Runner's Reward' was well worth the 13.1 miles.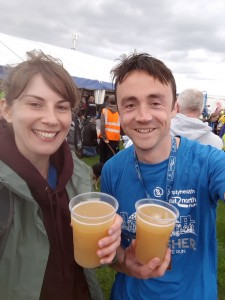 Schoolboy Errors
For those who have not participated in the Great North Run before, these are some classic mistakes to be avoided:
The jelly like substance held out by race officials is vaseline, NOT gel for eating.
The Magnums at mile 8 should be resisted.
Same goes for the beer at mile 11.
Aim your finished bottle of water over the crowd, not at the runners' feet.
The race number goes on the front, not the back
Lake Garda
Training next week will be in the heat of Lake Garda, where I will be taking a well-earned holiday!
Felicity – Newcastle Sports Injury Clinic Podiatrist
Congratulations on the Great North Run.  Enjoy your holiday Felicity – Newcastle Sports Injury Team