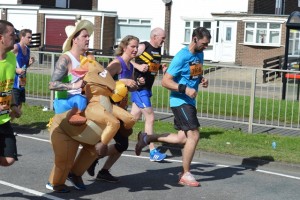 A leading Newcastle Sports Injury specialist is offering free advice sessions to charity runners struggling to make the start line of this year's Great North Run.
Newcastle Sports Injury Clinic, based on Saville Place, is bracing itself for a rush of last-minute treatment requests ahead of the 2017 Simply Health Great North Run, taking place on Sunday, 10th September.
It is extending opening hours to cope with demand, as well as offering free advice sessions to those taking part in the Great North Run for charity.
Karen Dearden, Newcastle Sports Injury Clinic Director, said: "We are aware that runners who do not complete the run are then unable to collect sponsorship promised to them.  This, no doubt, results in a loss of much-needed funds for charity.
"Our expert therapists specialise in diagnosing and treating running injuries, and we want to be able to help as many people as possible to complete the Great North Run.
"For 2017 Great North Run charity runners, we are offering a free 15-minute advice session to each runner, during which they can meet with one of our therapists to discuss their current training, any running injuries they are suffering from and, where necessary, receive information of any further treatment they require.
"We work with every one of our patients to not just beat their injury, but get better in the long-term.
"We are also offering free foot screening and footwear advice to charity runners to ensure their feet are in the best possible condition along with information on the most appropriate footwear for their individual running style."
In addition, therapists from Newcastle Sports Injury Clinic will be available at the GNR Pasta Party on Saturday, 9th September at Gateshead Quayside, where they will be offering free 15-minute massages to runners to help them prepare for the big day.
Free appointments for charity runners are available until 5pm on Thursday, 7th September, and are subject to availability. Demand is expected to be high so early booking is recommended. Runners are asked to inform the clinic at the time of booking that they are running for charity, and to bring evidence of their charity place along to their appointment.
Newcastle Sports Injury Clinic's extended opening hours to assist with last minute advice and treatments:
8am to 9pm on Thursday 7th September
8am to 9pm Friday 8th September
8am to 5pm Saturday 9th September
For further information or booking enquiries, please call Newcastle Sports Injury Clinic on 0191 233 0500.