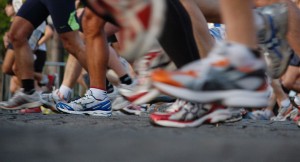 At Newcastle Sports Injury Clinic, we offer both podiatry and chiropody services, and we are often asked what the difference is between the two.
Here is our guide to help you understand the differences between podiatry and chiropody.
Podiatry
Podiatry is an absolutely crucial part of the way we treat patients at Newcastle Sports Injury Clinic. It involves the analysis, diagnosis and treatment of foot disorders, but really, it is about so much more than that.
A podiatry assessment at Newcastle Sports Injury Clinic involves the assessment of how your feet and lower limb work including the hip, knee and pelvis.
The assessment focuses on the movement of the joints in the foot, foot posture and how this can affect the lower limb, including the knee and hip.
Podiatrists are health care professionals who have been trained to prevent, diagnose, treat and rehabilitate abnormal conditions of the feet and lower limbs. They can do that by assessing a patient's biomechanical structure, using a range of techniques, including gait analysis.
Podiatry is a service that we have really sought to develop in recent years, and we have two new podiatry specialists on board in Pam Hindmoor and Andrew Corder.
Chiropody
'Chiropody' is term that has gone out of fashion slightly, mainly because podiatry is a more accurate summary of the services offered by sports injury specialists. It's best to think of the chiropody services we offer as a specific branch of podiatry.
However, chiropody still has its place, and is an important aspect of our service: it tends to refer to what is also known as 'routine foot care'.
This means treating various conditions such as thickened toenails and ingrowing toenails, calluses, dry skin, cracked heels, corns, verrucae, blisters, ulcers, diabetes and arthritic footcare.
The impact that these can have on both sports people, and the non-sporting, in terms of the way they live their lives, should not be underestimated. Foot pain is not normal. If you or a family member experience pain then you need to visit your podiatrist.
If you have any questions, think you have a problem with your feet or lower limbs, or want to speak to someone about your injuries, remember you can get a free phone consultation from Newcastle Sports Injury Clinic and we will point you in the right direction.
We always treat injuries holistically, and if that means seeing more than one specialist, then that's what we recommend. It ensures the best results for our patients and gets you back to peak performance as quickly as possible.
If you seek help for your always ensure that any practitioners you visit is registered with the Health and Care Professionals Council (HCPC) and describe themselves as a podiatrist (or chiropodist).