Our, Acupuncture – A Patient Perspective, journey continues this week with the patient's first session of treatment.
First Acupuncture Session
Having completed the written assessment part of my appointment, Steve made sure I was comfortable on the therapy bed and talked me through where he would be putting the needles, giving me time to adjust before inserting them.
I was a little nervous as needles are not something I would ever get excited about but, in all honestly, I barely felt them go in.  He placed a few in my feet and at various points around my knee, only one made me wince and that was the one placed on the area of my knee giving the most pain, even then I wouldn't say it was especially painful.
Steve confused me when he put a needle or two in my left arm and hand, when I asked how it was related to my knee, he said that during my medical history questions, I had mentioned that following a mild stroke a few years back, my grip was slightly weaker than it had once been.   Although I'd said it wasn't a problem as the only thing I struggled with was using a tin opener, and as most tins come with a ring pull these days, doesn't really affect my day to day life.  He believes that with some gentle acupuncture to my arm, my grip could improve.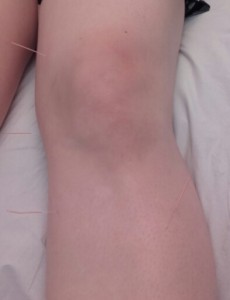 After each needle, Steve asked how I was feeling and asked me to describe any tingles or pain around the needle entry points.  After a few minutes, the areas began to ache slightly but Steve reassured me this was a good sign and meant that my muscles were responding to the acupuncture.
Steve checked on me one last time before leaving the room to allow me to relax a little as the acupuncture needles worked their magic.  I was borderline nodding off when he knocked a short while later to remove the needles.
I felt no pain at all as he eased each needle from me and disposed of them in his sharps disposal box, as I mentioned earlier, each needle is single use only.
I sat up slowly from the therapy bed to avoid any potential dizzy spells, I felt like I had slept for a week.  Steve informed me that I may be a little sore for a few days and this was a normal side effect from an initial acupuncture session. He recommended that I book in for a couple more sessions to feel the full benefit of the treatment.
True to his word, the following day my arm ached a little at the elbow and my knee was quite sore but a quick ice pack and some gentle stretching soon had me dashing round the supermarket, doing my weekly food shop!
Surprising myself, I'm rather looking forward to my next session with Steve and I am very much looking forward to not having to worry about niggling pain in my knee as I do my gym workouts.  I'm also curious to see of my grip will improve with more sessions.
I will write back after my second session and let you know how I get on.
Acupuncture patient at Newcastle Sports Injury Clinic