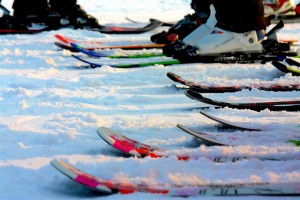 Karen Dearden, clinic director at Newcastle Sports Injury Clinic, looks back at a great ski season and talks about her plans to prepare more thoroughly – and earlier – for next winter's trips.
I have recently returned from a week's skiing in the Dolomites. The conditions were brilliant: the weather was kind and the snow ideal.
A lot of the resorts are having their last weekend of the season this week, which in many ways is such a shame as, following those late season dumps of snow, there is more snow about now than there was in January. But the lifts are closing, so it does mean that we are now putting away the skis and thinking about getting the bikes out and forgetting all about those tight muscles from skiing until next season.
Every year I think: "Right, I am going to get myself ski fit early so that I am not limited by my tired thigh muscles." Yet every year I do very little! Certainly not enough for someone who spends the rest of the year busy at work with the odd bit of exercise scattered between on the evenings and weekends that allow.
A few squats the week before you go away is better than nothing, but certainly far from enough to make sure you get the most out of your skiing holiday.
We covered over 70km on skis most days we were out. Ok, that includes the distance covered on the ski lift, but about 45km a day of that was actually skiing. That is the equivalent to skiing from Newcastle to Haydon Bridge or to Bishop Aukland every day for a week. No wonder my legs were sore!
At the time of year most people go skiing, they have typically been a couch potato for several weeks beforehand. There is Christmas and it is winter and the weather is not that conducive to doing much beyond watching tv, eating and sleeping. This leads to sedentary lifestyles and decreases their 'readiness' for skiing.
Next year will be better, I promise! We have a ski fit class operating in the Autumn and winter and I am going to take part – look out for updates closer to the time, and, as always, contact us to book your place.