The staff at Newcastle Sports Injury Clinic will be attending the Virgin Money Cyclone Challenge Event to help support cyclists. We're offering sports massages, and will be available to answer queries about injuries or recovery post-race. 
Our team will be present at the Tyne 6 Bridges event on Friday and the  Curlew Cup on Sunday.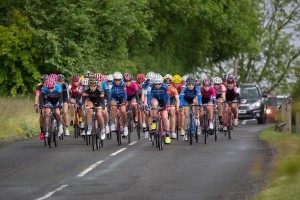 Leading up to the race, here is some pre-race advice to ensure you're ready for a great ride!
Bike set-up – preparation is key
Is your bike fitted for YOU?
Has your bike been recently serviced?
Bike fit is extremely important for optimising performance and for injury prevention. Due to the repetitive nature of cycling you are at risk to injury if the mechanics are not suitable to you.
Even slight adjustments can make a big difference. Consider your saddle height, handlebar height and cleats positioning and have your bike looked at by a professional. Servicing is extremely important in bike maintenance to make sure your bike is in prime condition before an event and reduce the risk of malfunction during your event.
Nutrition – emergency rations may be required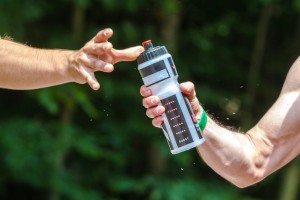 What should I eat the night before?
What should I have for breakfast?
How do I fuel during and after the race?
There is no need to go mad the night before. Ideally, you should have a normal healthy, balanced meal with some carbohydrates, to give you good glycogen stores for the next day, and some vegetables and protein.
Aim to avoid high-fibre or spicy foods the night before a race and don't eat too late. British cycling recommends eating 90-120 minutes before you start cycling and advises porridge or eggs if you wish for more slow-release energy.
Keeping hydrated is essential. This should be done in the days leading up to the cycle and on the day of the cycle. Aim to sip around 500ml of water or isotonic drink to ensure you are well hydrated.
British cycling recommend an intake of 500-1000ml of fluids per hour and early consumption of carbohydrates. This should be done little and often to maintain energy levels.
It is essential for recovery that you fuel up following your race! Aim to eat or at least have a recovery drink within 20 minutes of finishing, ideally something with plenty of carbohydrates and protein, such as a tuna or ham sandwich.
Warm-up – Gearing up for the storm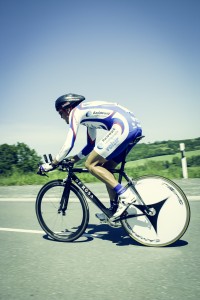 Do I need to warm up?
What type of exercises should be included in my warm-up?
How long do I need to warm-up?
A warm-up is crucial preparation before engaging in strenuous activity – it prepares the body and mind for the activity ahead.
Your warm-up should be progressive and aim to increase the heart rate. You want to increase your body temperature and encourage utilisation of oxygen around the body. Typically you want the warm-up to prep you for the activity ahead, therefore a cycling based warm-up on your bike is most appropriate and preps your body for the range of motion required.
Static stretches have not shown to help with injury prevention or performance. For a road cycling race if you are unable to perform a warm-up prior to your event you should typically spend the first 10-15 minutes of your cycle as your warm-up. British cycling recommend progressively working through your gears and increasing your cadence. The warm-up should prep you for the effort you wish to put in; therefore, if you plan to work at a high rate at certain points it is worth including some hard effort bursts in your warm-up to ensure you are physically ready for this.
During the race – eye of the storm
Is there anything I should think about during the race?
It is important to have a plan before you commence the race. Remember the distance and appropriately pace yourself.
In this particular event everyone will have differing amounts of preparation. Pacing is particularly important for the hills: don't go too hard at the beginning of the hill and end up running out of steam half way up.
It is also vital to use your gears properly. Make sure you are happy with transitions between the gears before the event to ensure safe and effective ascending. Don't grip the bars too tight, you can carry excessive tension by doing this. Also, change the position of your hands on the bars regularly during the event, again this will help limit tension.
Cool down – letting the dust settle
Why do I need to cool down?
What should this entail?
Cool downs help your body to remove the waste products accumulated during exercise and restore the body to its previous state. They are a very important part of recovery, particularly if you plan to race the next day or recommence training.
Similar to the warm-up, this should be progressive, gradually lowering your heart rate. British cycling recommend dedicating roughly 5-10 minutes to this at the end of your cycle and then 5-10 minutes of stretching as soon as you get off your bike as this is the optimum time and may be beneficial due to your body being in a fixed position for a prolonged period. Later into the evening, don't just sit down either, have a bath, stretch and keep mobile to help reduce muscle tension.
If you do pick up an injury during the event or wish to book in for massage, we'll be there! If you're suffering any cycling pain, you can find some common injuries and solutions here, or just get in touch. 
Don't forget we offer a free triage service, just call 0191 2330500 to speak directly to a physio for advice.
Good luck to all racers!