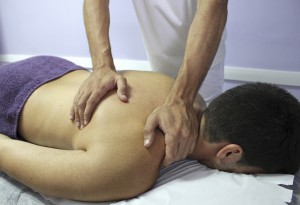 Sports massage is one of our most popular therapies, but it's important to understand what sports massage is effective for and also what its limits are.
Sports massage will do a wide variety of things and can depend on the style administered. For example, regular maintenance sports massage aims to reduce muscle tension, maintain muscular elasticity and suppleness, therefore, decreasing the opportunity for muscle injuries to develop.
Alternatively, pre-event sports massage can invigorate muscles to prepare them for activity and can be applied anywhere from 48 hours to two minutes before an event. Post-event massage can help reduce DOMs severity, help remove waste products, normalise body temperature, blood circulation and muscle function.
Why is sports massage important?
Sports massage is important to maintain and increase joint mobility and range of motion by reducing muscle tension. It will increase muscle elasticity and suppleness by relieving tightness, stiffness and muscular spams, helping to reduce injury likelihood and help with people that have tightness associated with a desk-based job. An increase circulation and blood flow will assist with recovery after sport.
How does sports massage complement other therapies?
Sports massage is often applied in conjunction with other therapies. A physiotherapist may develop an exercise programme to strengthen certain areas of the body and advise sports massage can help reduce muscular tension and regain mobility and flexibility back to the muscles.
How often should you get a sports massage?
Regular sports massage can benefit most people. The frequency may depend on your job, sporting activity and pain levels. Every four to six weeks can have great benefits to keep you feeling good and reducing the chance of injury. It may be recommended to get them more often if you are very active or have chronic tightness.
Will sports massage help with back pain?
Sports massage can help with back pain, but we would tend to recommend that people with back pain see a physiotherapist first. However, once diagnosed, sports massage can help back pain by reducing tension in the surrounding muscles. This will lead to increased muscular elasticity and mobility around the back. Stretching techniques may be useful to increase the range of movement that often coincides with back pain.
How does sports massage differ at Newcastle Sports Injury Clinic?
First of all, we have a supremely qualified and experienced team. If you read our team page, you'll notice we always include our staff members' qualifications. This is crucial because not everyone who calls themselves a sports massage therapist will have been trained to the same level that our therapists have.
Our professional staff at Newcastle Sports Injury Clinic have a wealth of experience working with patients to address their specific needs and expectations massage is often used alongside other therapies as part of a holistic treatment plan. With multiple professions available within the clinic, patients can be confident they are receiving treatment most appropriate to their needs.
Our highly qualified and professional massage staff at Newcastle Sports Injury Clinic in Newcastle, Jesmond and Alnwick have a wealth of experience working with patients with a variety of problems.
Contact us on 0191 233 0500 for more information and we can make an appointment with the correct person to meet your needs. Alternatively, you can book an appointment with any of our physiotherapists via this link.