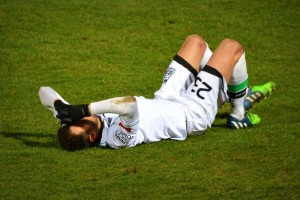 Concussion on the sports field has been thrown into the spotlight once again after it emerged that Loris Karius, the Liverpool goalkeeper, suffered an undetected concussion during May's Champions League final.
The keeper was caught by an opposing player's elbow during his side's 3-1 defeat to Real Madrid in Kiev in May. The incident which occurred just before the Karius mistakenly gave away the first goal, was spotted by neither officials nor medics at the game, and the player was able to continue playing.
It may, however, have affected his judgement: he went on to make another significant error in the game which led to Real Madrid's third goal. Only a week later was it revealed that he had suffered a concussion during the elbow incident with Sergio Ramos following a series of brain scans.
This has prompted calls to use video footage, which is already used in rugby, to help spot and diagnose incidences in football matches where concussion may have occurred, and it has caused to people to ask how Karius was able to continue playing.
Why can concussion be so serious?
Head injuries such as concussion can be incredibly serious, especially if not detected straight away and cared for correctly. The fact that Karius was able to continue playing demonstrates how easily such cases can slip through the net.
Other sports arguably place participants at even greater risk of concussion, too: while footballers suffer head collisions quite often, it is even more frequent in sports such as rugby and American football. We have previously written about concussion in American football here and here.
At Newcastle Sports Injury Clinic, as part of our range of services, we frequently work pitchside at sporting events. Our attending physiotherapists are trained to spot the signs of concussion and to be able to manage it if it occurs.
Research into concussion, its detection, symptoms, effects and treatment are continuous and rapidly growing.  Therapists at the clinic regularly attend training on concussion research, its findings and recommendations to ensure they are following the most recent guidelines when dealing with concussion cases.
How to spot concussion
There are six key symptoms of concussion, which everyone should be aware of:
Headache.
Dizziness and nausea.
Mental fog and difficulty concentrating.
Difficulty speaking.
Amnesia and confusion.
Fatigue.
To diagnose a concussion, you only need a mechanism of injury, which is not restrictive to a bang to the head or a knockout, plus any one or more of the above symptoms.
What to do if you suspect concussion
If you, or a friend, has suffered a head collision, however minor, and is experiencing any of these symptoms, then medical attention should be sought immediately.