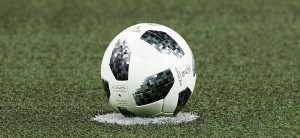 The build-up to this summer's World Cup in Russia has been unusual from an English perspective in that there wasn't a high-profile injury to a star player to disrupt preparations.
Dele Alli picked up a knock in the first game against Tunisia, but it has been handled with relatively little drama. It pales next to the crises that gripped the nation in previous years!
In recent tournaments we've had late injury scares to David Beckham, Wayne Rooney (three times!) and Rio Ferdinand, while Michael Owen was forced out of the 2006 World Cup with a serious knee injury once the tournament started.
Here are some of the best-known injuries suffered by England players over recent years. Don't forget to read our guide on the five most common footballer injuries. Fingers crossed the squad stays fit and healthy – and involved in the tournament – until mid-July!
Broken metatarsal
The metatarsal – a small bone in the foot – was relatively unknown to the general public until 2002, when it suddenly exploded into the national consciousness thanks to David Beckham.
Metatarsals are a group of 5 long bones in the foot and are prone to brakes or stress fractures as there is little protection across the top of the foot. Footballers are especially susceptible to metatarsal breaks and fractures as they occur as a result of a twisting injury of the foot or ankle and because of the way the foot is exposed to impact during tackles.
Beckham suffered his break following a tackle by Deportivo la Coruna player Aldo Duscher in April 2002 – just a few short weeks before he was due to fly to Japan and Korea as England captain.
The injury was unfortunately very common during this tournament with Gary Neville and Danny Murphy both withdrawing from the squad at the same time for the same reason. Lightning then struck again when Rooney broke one of his metatarsals immediately before the 2006 tournament in Germany.
Although Rooney and Beckham recovered in time to play at the respective tournaments, the recovery time meant neither was fully fit and their form suffered as a result.
Ankle sprain
Another World Cup, another pre-tournament injury scare for Wayne Rooney. In 2010, Rooney damaged ankle ligaments and, once more, a nation held its breath as the scans revealed the extent of the damage.
It is vital not to rush back from an ankle sprain as there is a high risk of recurrence if proper rehabilitation has not taken place. Important stabilising muscles are often weakened.
Recovery times for ankle sprains vary depending on the severity of the sprain. Low-grade sprains can take around 6 weeks to heal, while high-grade sprains can potentially take 3 months to reach full function.
Rehabilitation plays an important part in the recovery process of an ankle sprain, without appropriate treatment of recurring ankle sprains or further injuries could occur.  It is imperative that sprains are cared for promptly to prevent ongoing symptoms and/or further injuries.  Therapists at Newcastle Sports Injury Clinic regularly treat both one-off and recurrent ankle sprains, looking into the root cause of the injury and providing hands-on treatment along with exercise plans to help the patient to return to full function.
Despite his ankle sprains Rooney eventually made it to South Africa but once again his fitness and form suffered, and he left the tournament without scoring.
Anterior Cruciate Ligament (ACL) injury
An injury to the ACL is a fear that all footballers have, its minimum recovery time of nine months can have a huge impact on the player and their team and country. Historically, an ACL injury could have ended a footballer's career, but modern surgical techniques and advancements in prehabilitation and rehabilitation therapy have improved the prognosis significantly.
High profile players including Alan Shearer, Ruud van Nistelrooy, Xavi, Roy Keane, Roberto Baggio and Alessandro del Pierro all recovered from ACL injuries and were able to continue playing at the highest level.
England's World Cup in 2006 got off to a terrible start when Michael Owen went down in what looked like an innocuous incident – there were no opponents near him –in a game against Sweden. Most ACL injuries are non-contact and replays of the match footage showed signs of a classic ACL injury.  It was soon confirmed that Owen had ruptured his ACL during the match, with Rooney struggling for fitness following his foot injury, and Owen's ACL injury, the squad was now short of strikers.
Warning: video contains footage of injury occurring.
https://www.youtube.com/watch?v=NyI_gXOE2bw
Niamh McLaughlin, physiotherapist at Newcastle Sports Injury Clinic has recently suffered with an ACL injury and has documented her recovery in a series of blog posts. (link to Niamh's ACL blogs)
Treating football injuries at Newcastle Sports Injury Clinic
Newcastle Sports Injury Clinic has many years' experience of treating footballers' injuries. We work closely with the region's biggest university sports teams, and are the official injury prevention and treatment partners of the Northumberland Football Association, offering a range of free, discounted and fast-tracked services to Northumberland FA (NFA) affiliated members (players, coaches, referees and club staff) including:
A free injury advice hotline
2 free physiotherapy/osteopathy sessions per club
Discounted treatments: Every Northumberland FA affiliate receives exclusive discounts on physiotherapy, osteopathy, sports massage and podiatry.
Fast-track access to MRI & ultrasound scans
Injury prevention advice workshops/lectures
Drop-in clinics
Access to orthopaedic consultants
Call us now on 0191 233 0500 and get advice on the best therapist to see for your injury.