Rosie Smith BSC (Hons), MSCP | Physiotherapist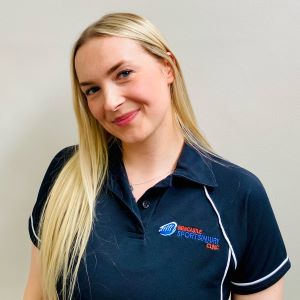 Rosie completed her undergraduate degree at Northumbria University. She has been qualified as a physiotherapist since 2016. Since qualifying, she has worked in the NHS across a variety of areas and has experience treating a wide range of conditions.
She has always had a keen interest in musculoskeletal and orthopaedic rehabilitation and has worked within several musculoskeletal NHS services across the North East of England.
Before joining the team at Newcastle Sports Injury Clinic, Rosie previously worked as a senior occupational health physiotherapist for staff at Northumbria Trust and Northumberland County Council, helping staff return to work safely after injury with her musculoskeletal knowledge and expertise.
Rosie has a particular interest in back pain rehabilitation but is experienced in treating a range of musculoskeletal conditions, utilising her skills and knowledge she has gained from her NHS training. She is passionate about sharing her knowledge and treating patients to help them live healthier and happier lives.
Believing strongly in practicing what you preach, so when she is not at work, Rosie enjoys living an active lifestyle – you will find her strength training at the gym, swimming or hiking in the hills.
Rosie is available for Physiotherapy treatments at our Newcastle city centre clinic. To make an appointment Book Online or call us on 0191 233 0500