Janis Oliver visited the Newcastle Sports Injury Clinic for advice and treatment during her training for the 2015 Great North Run.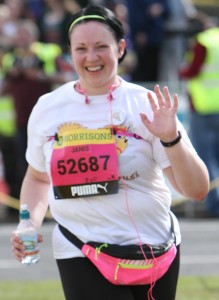 "I started running in January 2015 and due to a treadmill session in April I came out with a groin strain and tear to my hamstring.  After a good 8 weeks off running I then had a couple of weeks to train up to the Great North 10k. Following my recovery I continued on with the physio stretches and strengthening and then heard about the Sports Injury Clinic through Daft as a Brush and decided to go along to chat to them about my development, rehabilitation and their recommendations for the Great north Run and what else I could do.  
I think the guy's name was Ryan who I saw and he was very knowledgeable, listened carefully and asked me to show him the range of stretches and exercises I was doing and to see how my leg flexibility and mobility compared to my good leg. We had a good chat and he gave me another couple of strengthening exercises to try and I was happy that I wouldn't be doing any more damage to my legs.  
I managed to raise over £500 in sponsorship and completed in 3 hours 31 minutes….. it made me more determined to stay injury free for 2016 GNR and to put my all into my training. I'm now building up distance carefully from now to GNR from 12k to 19k (the week before the run)."
Janis Oliver – Daft as a Brush runner