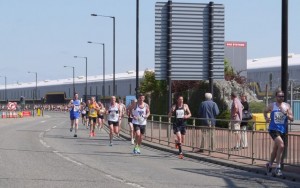 With the 9th of June and the annual Blaydon Race approaching, the team here at Newcastle Sports Injury Clinic hope your training is going to plan. This 5.6 mile race, steeped in local North East tradition, is a very enjoyable evening and we are here to help guide your training and manage any potential running injuries.
We can help if you're struggling with a running injury, wanting to reduce the potential risk of injury or to improve your running technique. Our team includes physiotherapists and a podiatrist who specialise in running injuries and running technique.
We work together to provide the best advice and guidance to ensure you are reaching your potential as a runner. We have various packages available as part of our Running Clinic which includes physiotherapy assessment of strength, flexibility and muscle balance as well as in-depth running gait analysis. We also can assess muscle tightness which can develop into potential injuries, providing sports massage and appropriate home exercise rehabilitation exercises. It is never too late to see a physiotherapist to ensure you get across that finish line.
Some of the most common running injuries include plantar fasciitis, shin splints, iliotibial band syndrome and Achilles tendinopathy.
Looking forward to the Blaydon Race and other summer running events, here are some top tips on avoiding injury while running:
• Make a plan.
This step often gets over looked, yet it's so important. Get a good training plan started up with set goals and time frames. It allows you to keep track and build up your distance. Research has shown that those people who make good training plans are more likely to reach their goals.
• Wear correct footwear.
Footwear can have a huge impact on your training and running. Wearing incorrect footwear can lead to injury and reduced performance. Contact the clinic to get booked in with our podiatrist for an assessment and to have any queries you may have addressed.
• Be patient.
Don't try to do too much too soon and gradually increase your mileage. A gradual increase reduces your risk of injury as running, especially road running is demanding on your body and it can take time for your body to adapt.
• Time yourself.
Either set a timer on your phone or on your watch. This allows you to further track your progress, use it along with your plan as it can be a great motivator.
• Schedule rest days.
It's very easy when training is going well to get carried away and not take the importance of rest into consideration. Rest is just as important as the training and the training doesn't work without quality rest to support the recovery period and tissue repair. If you feel like taking two rest days in a row don't worry your body must need it. Listen to your body.
• Get strong, and get stretching. 
Identify any potential areas of weakness or previous injury and include strengthening exercises into your training. Common areas of weakness include calf, quadriceps and glutes. Stronger muscles can help improve running economy, absorb impact more effectively and reduce the risk of injury. Also, including a regular stretching programme will reduce occurrence of injury.
If you have any queries, are struggling with a running injury or would like to improve your running performance, please give the clinic a call on 0191 233 0500 and have a chat with one of our professionals today. Or if you would prefer, please email [email protected] with any questions at all.